Togakushi Snowshoeing with Guesthouse Lamp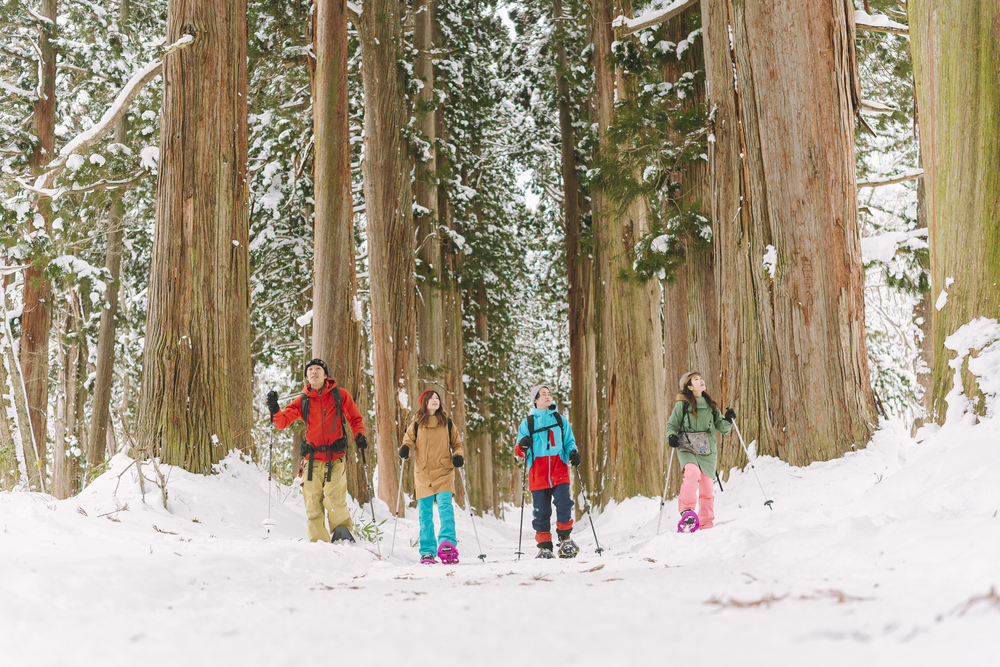 Take a snowshoeing tour around the magical forests at the base of Mt. Togakushi and see up-close its towering, 400-year-old cedar trees and ancient shrines.
Togakushi is one of Nagano's most popular natural sightseeing spots. People come from all around to visit its five shrines hidden throughout Togakushi's forests, gaze up at the magnificent 400-year-old cedar trees that line the Okusha trail and see precipitous Mt. Togakushi reflected in Kagami Pond.
Its scenery is impressive any time of year, but the blanket of snow that covers the forest and shrines makes it even more magical.
Take a Snowshoe tour through the Forests of Togakushi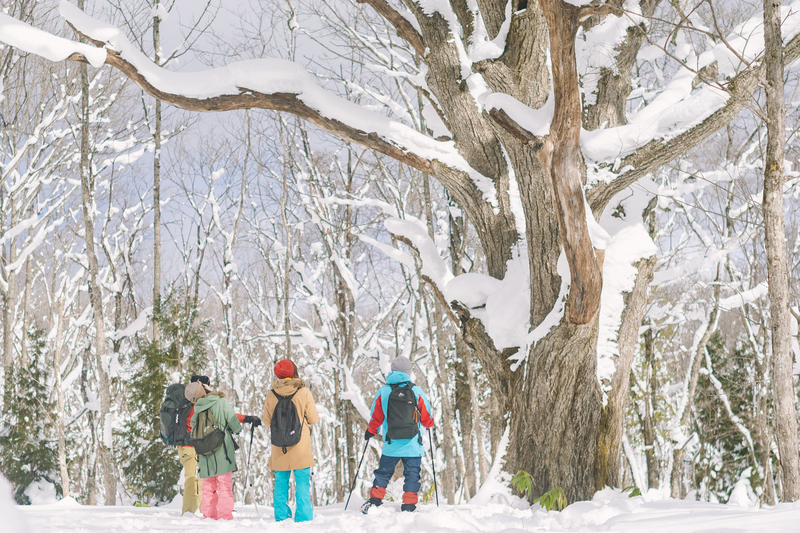 From December to late March, Guesthouse Lamp in Shinanomachi offers snowshoeing tours around Togakushi. This one-day trip takes you along the Okusha shrine trail to the famous lane of cedars and over to Kagami Pond, where you can see clear views of the area's namesake mountain.
Walk freely through Togakushi's forest on snowshoes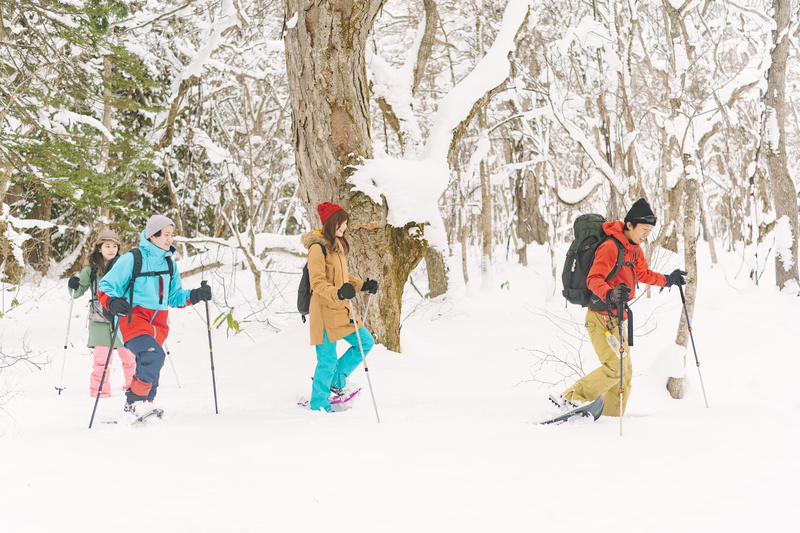 When the snow covers the forest floor and flattens the grasses and bushes that would otherwise impede you, you have the freedom to walk wherever you please. You can leave the beaten path and explore the forest to your heart's content.
Togakushi's relatively flat forest bed is a great starting place for new snowshoers. The large Togakushi mountain range also serves as a clear landmark, so you never lose your bearings. As you walk carefree through the snow, who knows what you'll discover!
Enjoy winter birdwatching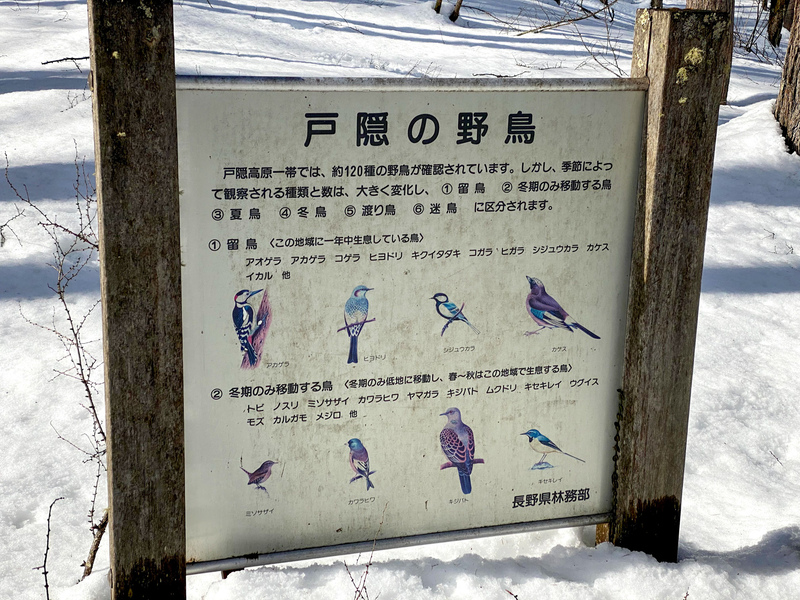 Togakushi's forests are home to over 120 species of birds. During winter, when the leaves have fallen from the trees and bushes have been buried in snow, it's much easier to spot them in the wild.
Common birds found here during winter include the great spotted woodpecker, brown-eared bulbul, bohemian waxwing, Japanese tit and Eurasian jay. If you're lucky, you may also encounter the solitary snipe, golden eagle or red crossbill.
Togakushi Snowshoeing Schedule
The Togakushi snowshoe tour is a one-day tour beginning and ending at Guesthouse Lamp in Shinanomachi. The nearest station is Kurohime Station, 40 minutes from Nagano Station on the Kita-shinano Railway, and the guesthouse offers shuttle service to and from the station.
Meet at Guesthouse Lamp (9:00)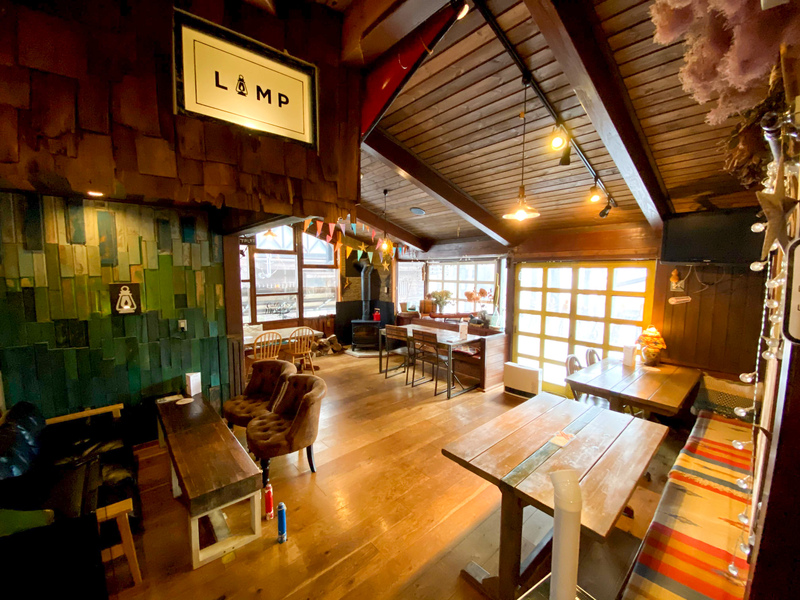 Check-in for the tour begins at 9:00 at the front counter of the guesthouse.
Depart for Togakushi (9:30)
After signing in and changing into your snowshoeing gear, you'll depart for Togakushi. You may stop at a nearby convenience store to pick up lunch on the way.
Arrive at Togakushi (10:00)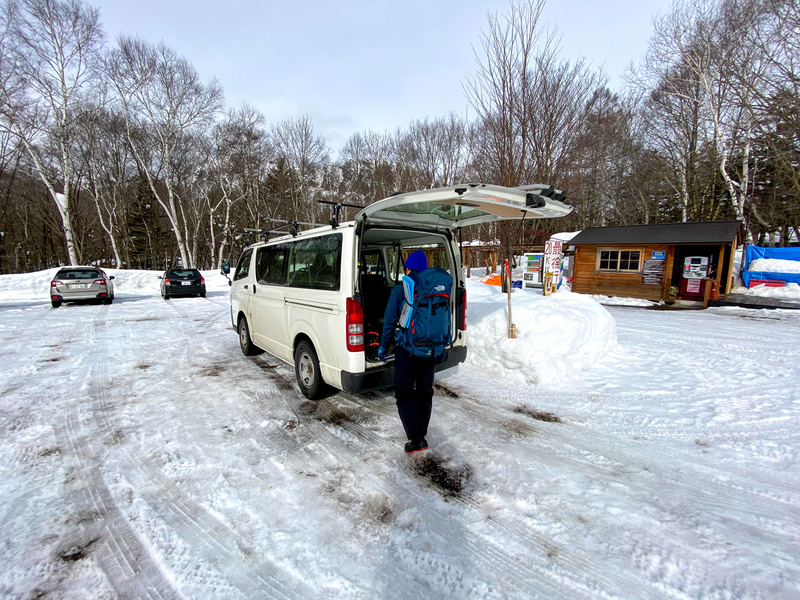 The trip to Togakushi takes only 30 minutes or so depending on road conditions. There's a public restroom next to the parking lot and the Togakushi Okusha trail is just a minute's walk away. From the torii gate at the beginning of the trail, you'll put on your snowshoes and head towards the Zuijinmon gate.
Snowshoe along the Togakushi Okusha Trail (10:00 to 12:00)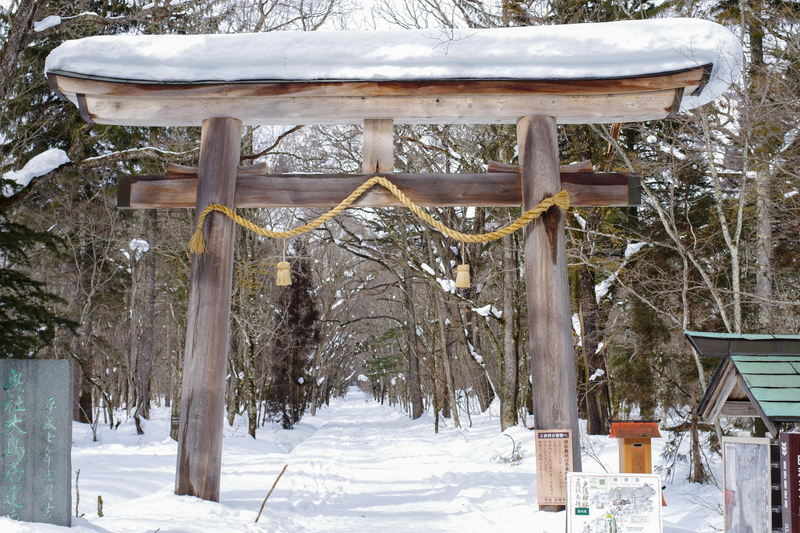 The Togakushi Okusha trail runs for two kilometers from the road to the base of Mt. Togakushi. Its midpoint is marked by the Zuijinmon gate, its reed-thatched roof covered in a heavy pile of snow. Beyond the gate, the trail is flanked by rows of towering 400-year-old cedar trees. This beautiful scenery, wrapped in wintry stillness, is well worth the trek.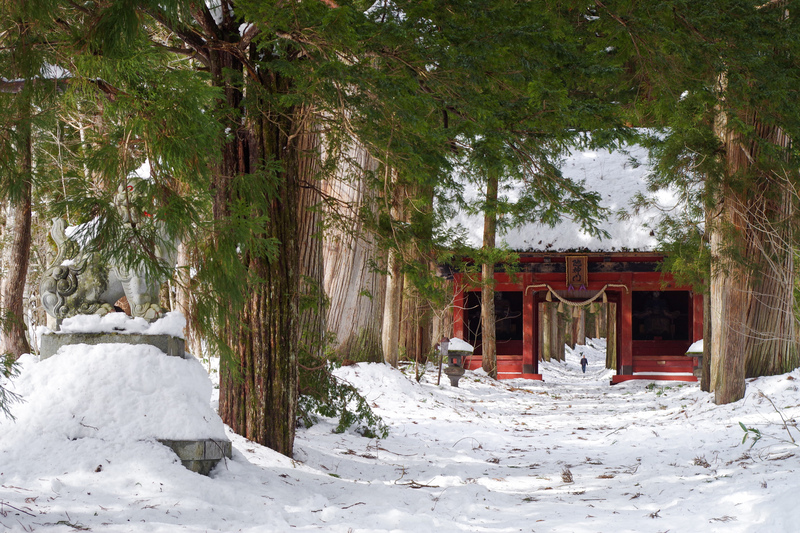 Have lunch at Kagami Pond (12:00 to 1:00)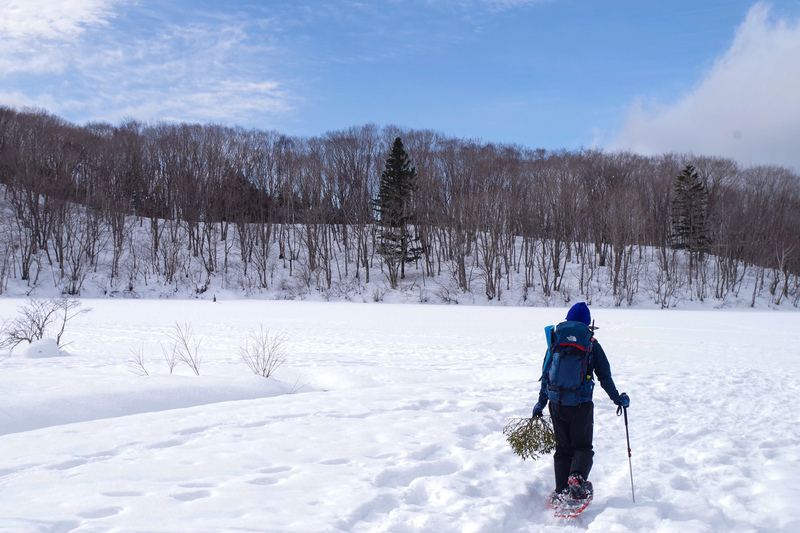 After a long walk through Togakushi's forest, you'll come to a snowy clearing with beautiful views of the Togakushi mountain range. This is Kagami Pond, and if the weather is good, this is where you'll stop to eat.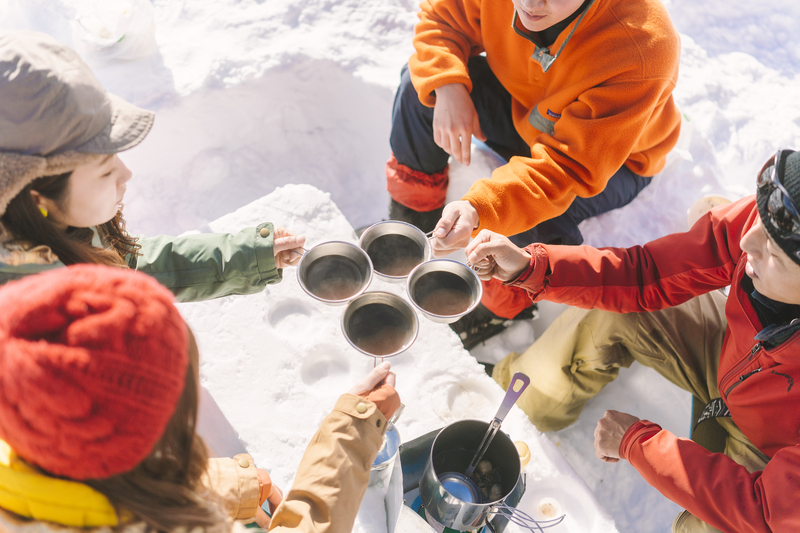 Your guide will prepare a hot cup of kurogoma tonjiru, a specialty of Guesthouse Lamp's chef that you can't get anywhere else. This hearty miso soup of vegetables of pork is accentuated with black sesame and warms you to the core. After lunch, enjoy a fresh pot of coffee brewed with lamp's own special bean blend.
Continue snowshoeing through the forest (1:00 to 2:30)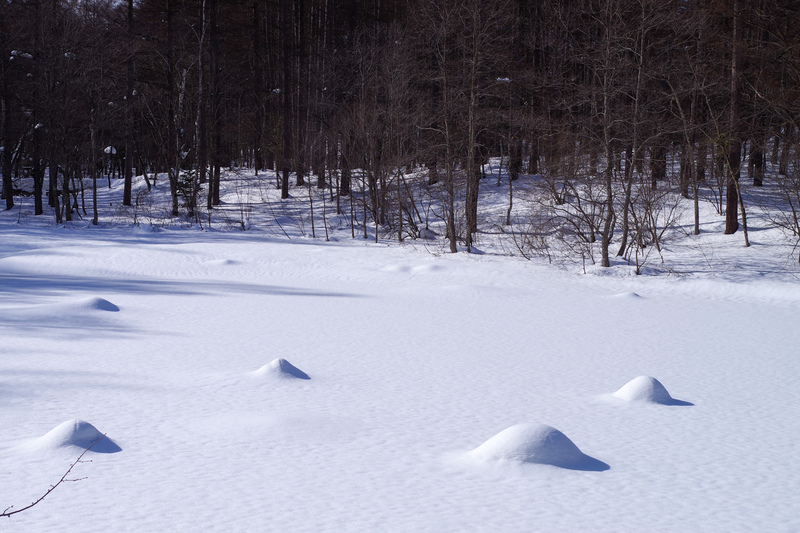 The course back to the Okusha shrine trailhead takes about an hour. You may take the beaten path or forge ahead through untouched fields of snow if you're feeling adventurous. Halfway along the trail you'll pass a small pond called Midorigaike. A few small trees are located in the pond and during winter they are covered in snow, creating adorable little mounds on the otherwise flat surface.
Return to Guesthouse Lamp (3:00 to 3:30)
The trip back to Guesthouse Lamp is another 30 minutes. If you've left nothing at the lodge and are taking the train back to Nagano, your guide may also drop you off directly at the station.
If you're sticking around for awhile longer, then consider relaxing in Guesthouse Lamp's famous saunas. There's no better way to warm up after a long day outdoors!
Conclusion
Togakushi is a great place to visit any time of year, and when covered in snow, its forests are shrouded in an air of peace and tranquility. There are fewer visitors, and with the freedom to traverse the snow on snowshoes, you can find a little pocket of Togakushi to call your own—even if only for a few hours.
Update:2021/02/05
Snowshoeing Tour in Togakushi
Operating Period
late December to March (depending on snow)
Time
6.5 hours
Reservations
Necessary
Price
Tour: 11,000 yen (includes snowshoes and gaiter rental)
Rentals: gloves/ 600 yen, snow wear/ 2,000 yen